Discover more from A Lonely Impulse of Delight
How stories work, plus Calvin and Hobbes and other fun arts and culture things
Over 1,000 subscribers
Moses Versus the Monsters
Attack the Block and How to be Original
The take that circulates endlessly in any space where self-styled serious people discuss movies is that everything in theaters now is basically the same. If anything this take has only picked up steam—and become, in the strictest sense, more accurate—now that nothing is in theaters.
Way back in the immediate aftermath of the Second World War, Theodor Adorno and Max Horkheimer stoked what is still the ur-hot take that lends its burning coals to all left-ish cultural pessimism. In a famous chapter of their 1947 book Dialectic of Enlightenment, they argue that something called "the culture industry" enforces a deadened sameness across arts and media. The chapter opens with this:
The sociological theory that the loss of the support of objectively established religion, the dissolution of the last remnants of pre-capitalism, together with technological and social differentiation or specialisation, have led to cultural chaos is disproved every day; for culture now impresses the same stamp on everything.
Everything.
The Culture Industry chapter goes on like that, flaring hotter and hotter, so hot that it's hard for even Twitter hyperbole to top its totalizing indictment of postwar cultural production. It's well worth a read, partly for the pleasures of watching intelligent writers get redder and redder in the face until they combust.
Of course, if you're an ambitious artist or critic or "creative" (a word Adorno would have despised) and you take the Marxist critical tradition seriously, you do have to grapple with this kind of thing. Do we live in an irretrievably decaying culture? Is everything the same, every book or movie or video game another node of the merciless machine of capitalist hegemony? Could anything possibly be original enough to be interesting? Is there any hope? Or should we just give in and let Netflix sock a few dingers?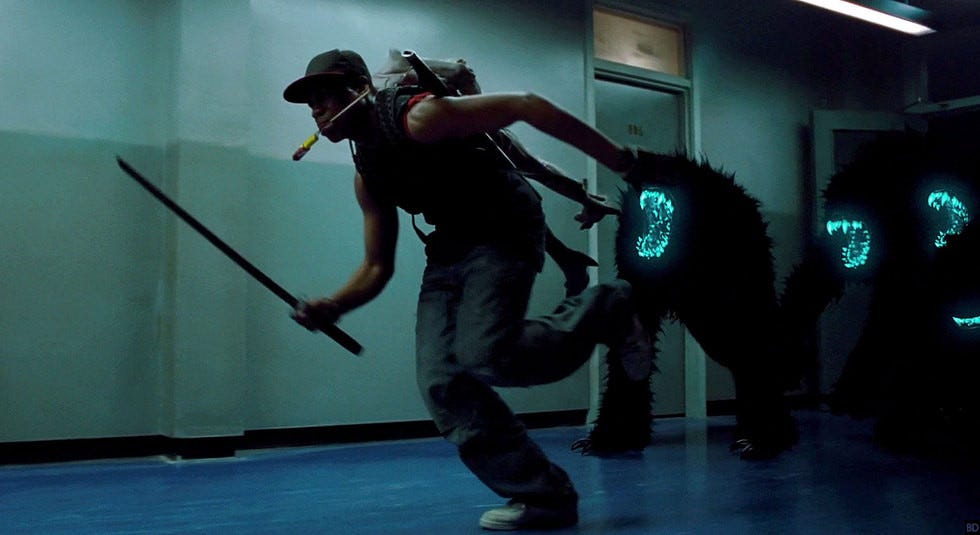 A lot of the best contemporary art responds with a defiant #whocare. Attack the Block, a 2011 British film with a deserved cult following, falls into that category, if we take its political fierceness and self-declared local authenticity seriously. It's the story of a group of kids in a London housing estate who fight back against an alien invasion. I have no way of assessing how well it captured late-2000s/early-2010s slang/fashions/lifestyles among that exact kind of person, but it clearly tried its best, to the point where I almost wanted to watch it with subtitles even on the second time through.
Attack the Block is a ripping tight-90 of alien-fighting action, intimately rooted in its exact geography, with a timely conflict with the police layered in. The movie's commitment to propelling the characters through the terrain of their story without pausing to jerk tears by expounding on their family situations or whatever feels like it belongs to an earlier, less precious era. We do get to feel some feelings for Moses, played by John Boyega, the laconic leader of the teen gang and the most gifted alien killer. But that happens in the midst of a tight scene where his former mugging victim, a nurse who's new in the estate, prepares his depressing apartment for an ambush of the extraterrestrial invaders. Attack the Block is about fighting aliens, and goddamnit, that's what these kids do.
Alien-fighting is both the heart of the film and a cunning ploy to pump other things through its arteries. Because after all, what is the genre here? Alien invasion action adventure, or something like that, sure—but also architecturally precise commentary on the injustices and ironies of living in a super-dense urban housing development? We've all seen movies structured like this in the broad sense, but no one had ever put these pieces together quite like this. An alien invasion that gets a group of would-be teen gangsters in deeper trouble with the law, and ends with [spoiler alert] the police arresting the heroes? With B and C-plots about devilish younger kids and stoner failsons? Attack the Block is like nothing else.
If Joe Cornish's movie is really that original, we've managed to briefly ward off both Adorno and the take du jour. Surely we can learn from Attack the Block and make more like it? Maybe we can, if we listen to Nicholas Brown's much more recent rejoinder to Adorno, playing off the success of David Simon's The Wire:
Because a genre, already marketable or it wouldn't be a genre, is also governed by rules. The very thing that invalidates genre fiction in relation to modernist autonomy—"formulas," Adorno called them—opens up a zone of autonomy within the heteronomous space of cultural commodities. The requirements are rigid enough to pose a problem, which can now be thought of as a formal problem like the problem of the flatness of the canvas or the pull of harmonic resolution. "Subverting the genre" means doing the genre better…
Apologies for pasting jargon-laden theory into this newsletter, but Brown is making a crucial point. Once you take on a familiar, popular genre—revenge thriller or romantic comedy or murder mystery or alien-invasion action adventure—you get to do two divergent yet complementary things. You get to satisfy the narrow demands of that genre, right down to specific story beats, but you also get to play in between those beats. The strict rules of a genre ironically become liberating. You get to mesh in other genres, or stuff in as many savvy themes as you want, or just find a totally new way to stitch together that familiar fabric. You get to turn an alien invasion story into one of the decade's most pointed films about the police state.
I don't really agree with Adorno's broader point, although he's always interesting. I do agree that there haven't been enough things at the theater that are as defiantly ambitious as Attack the Block. I hope, as the culture industry surveys its latest crash-landing and pulls itself from the wreckage, we get more stories like this one.
Calvin and Hobbes Corner
I could drop some Spaceman Spiff in here, since we're talking aliens, but instead I got detoured by a multi-strip story in which Calvin meets some alien invaders and tries to get them to do a leaf collection assignment for him:

This strip is in the middle of a surprisingly long story arc. We've had several strips of Calvin postponing his leaf collection assignment, which is implausibly involved for a six-year-old, but still made my stomach clench with memories of my own academic procrastinations.
Calvin and Hobbes is often wistful, usually resolving its protagonist's longings with a pensive "I guess that's just how things are." Before we get there, though, we have to consider that things could be different. Why couldn't an alien spaceship save us from the drudgery of busywork?
In this case, I feel for Calvin. It makes sense that his mom couldn't take him to the arboretum (are these a common thing in states that are less of a barren high-altitude desert than the one I grew up in?) on short notice. It also sucked an unreasonable amount when, as a kid, you had schoolwork that required going places you couldn't easily go on your own. Please, please, please stop assigning kids homework that involves buying that foam poster-board or going to Kinko's or whatever. You might as well be asking a schoolkid to sail on the Pequod.
Other fun things
—There are Nazi Bronies. I'd just as soon not expand on that sentence, so here's an article that will do it for me
—A Twitter follower turned me on to this podcast episode about Robert Smalls, one of the coolest historical figures you've likely never heard of. He was a slave who commandeered a Confederate ship to free himself and his family from slavery, which I mean, what can you say to that?
—Belatedly, here's Discourse Blog's Juneteenth post, which links to some orgs worth looking into
A poem
Ilya Kaminsky praises the darkest days