Discover more from A Lonely Impulse of Delight
How stories work, plus Calvin and Hobbes and other fun arts and culture things
Over 1,000 subscribers
I didn't hate Hamilton. In fact, I'm sitting here in the dark trying to remember why I'm supposed to hate it. I guess the musical's famous charm worked on me. It was a good one to watch with my mom while I'm still staying in my parents' house. And yet I still have big problems with the way Hamilton was received, and those were hard to ignore even as I found myself enjoying the show.
Hamilton works hard to resist the cynics. At the end of the musical, after an immediately regretful Aaron Burr has shot to death the show's namesake and protagonist, Alexander Hamilton's wife Eliza recites her achievements after his death. Apparently she founded an orphanage, helped raise funds for the Washington monument, and spoke out against slavery. She concludes by extolling the virtues of simply telling someone's story, whether Alexander Hamilton's or anyone else's. Just tell the story, and that can be enough.
It's not enough for true Hamilton diehards, of course, and there are a lot of them. You could write a citation-laden book chapter about the breathless encomia this musical has inspired. I always want to smack myself and make sure I'm not dueling with a straw man when I remember the many, many, many people with platforms who declared Hamilton one of the greatest pieces of art they'd ever encountered. If you think I'm joking, here's an example from all of three days ago.
Hamilton debuted in January of 2015 and almost immediately became Twitter's favorite recurring topic until the election got into full swing many months later. I don't know enough to say whether Lin-Manuel Miranda's musical was meant to be treated as the equivalent of a religious revelation for secular liberals. I do know that it had achieved that status by the time Donald Trump trundled down his escalator. In more innocent times on Twitter, we spent a solid week cracking wise about the existence of a Slack channel at Buzzfeed dedicated entirely to Hamilton gushing.
Let's just say we've had to talk about it a lot in the last five years.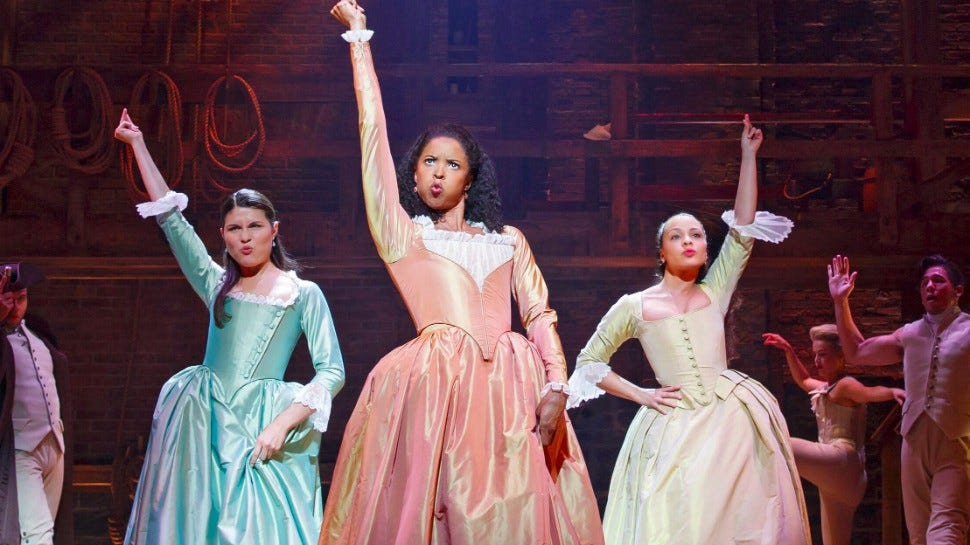 Even after years of rolling my eyes at the praise, I have to concede Hamilton does a lot of things well. I'm an oaf about musical theater, but I've been to a decent number of Broadway shows, and the technical aspects of this one popped. Choreography, comedic timing, transitions, the way light and melody and background dancing come together to amplify what's being said and done by the central characters—all of it struck me as well above average. Tolstoy despised Shakespeare, but he conceded that the Bard understood the theatrical form and that his tricks served him well. Lin-Manuel Miranda is not Shakespeare, but he does know his tricks.
It's famously easy to mock the lyrics of Hamilton when you read them out of context. Over the past five-and-a-half years, I've done exactly this on Twitter many times. But when those lyrics become part of a full production, the meld nicely into an impressive whole. Even the exposition is light on its feet, like the scene that explains dueling before we get to the show's two fateful pistol duels. I get why musical fans dig this one.
And also, I really enjoyed that Miranda makes Thomas Jefferson into a foppish, braggadocious cad. One of many discrete narrative choices Hamilton didn't necessarily have to make in order to work just fine, but which illuminate why it was a huge hit in the theater world.
Now, why exactly was Hamilton such a big deal outside of theater circles? That remains a much tougher question. The infinitude of digital ink spilled in an attempt to explain why actually makes it harder to land on an answer. No one wants to dig through a pile of blog posts from five years ago. I'll let the headline of the original New York Times review speak for itself:
In 'Hamilton,' Lin-Manuel Miranda Forges Democracy Through Rap
"Democracy" is of course exactly the thing we've spent the five-and-a-half years since this musical dropped being reminded that we don't really have. Hamilton was widely treated as a triumphal story about America, the kind well-heeled liberals could rally behind. It's only gotten harder since then to feel good about the legacy of any of the founding fathers. It definitely hasn't gotten any easier to feel good about what was left behind by the man who, as explicitly stated by the musical itself, birthed the American financial system. Hamilton goes out of its way to convince us that Alexander Hamilton was a complex man, and I'd say it succeeds, but who right now is in the mood for complexity?
By this point, you've likely concluded I'm either being too hard on Hamilton, or not hard enough. My target here is less the musical itself than its beatification. My problem with Hamilton is that it was treated as a profoundly hopeful story of such gravity that it could help us learn how to be appropriately, incisively hopeful about America itself. I don't think that's at all true.
It's not true because there's a crucial difference between hope and optimism. Cory Doctorow did a nice job drawing this distinction on a recent episode of my podcast. Optimism is the blithe faith that things will ineluctably get better. Hope can be many things, but it doesn't have to be blithe—it can be realistic and even wry. At this late date, it's hard to see how "hope" could mean anything if it wasn't hard-won and clear-eyed.
To tell a convincingly hopeful story about America in 2020, you'd have to give an account of who and what are thwarting the hopes of the vast majority of Americans. You might even have to give us some clues about what we might do about it, but that's getting ahead of ourselves. Let's just agree that Hamilton isn't much interested in doing this kind of thing. Hamilton is probably a good musical, but the only way to square the actual story with the story about the story is to give in to the smothering, unquestioning optimism that was all too easy for the liberal intelligentsia in the Obama years.
Hamilton makes a lot of gestures at abolitionism and racial integration, and at a vague feminism, and at why people don't like bankers. This is all fine—I don't feel like yelling at historical musicals for crowbarring in some Important Issues. I do feel like saying, this story has never given us fresh reasons for hope, or even done much to revive well-worn but still meaningful reasons. At most, it's a well-told, mostly fictionalized story about the overbearingly ambitious man who invented Wall Street.
And that's a fine thing for a musical to be. It just means Hamilton always occupied a place in the culture that should have been filled by something else. Finding that something else is the real task. That Hamilton has been discussed in such a breathless way is not so much a failure of a mostly-imagined story as it is a failure of our collective imaginations.
Calvin and Hobbes Corner
We continue our journey:

Last week, we started going through a multi-strip arc with our heroes. I rambled a lot about political theory in that one, so I'll try to keep it lighter this time through.
I'm realizing this Calvin and Hobbes arc might be an underrated part of my own wanderlust. I've always wanted to go to Antarctica, for instance, and while this may not have been the first time I read the word "Antarctica" to myself, it was probably fairly close. The incredible thing about Calvin and Hobbes is how often it brings out these realizations in those of us who read it as young children—it was our introduction to a great many things.
I also love the idea that Calvin understands finances well enough at age six to try to scam his dad out of a credit card. When was the first time you understood the power of plastic? I feel like it was later for me. I loved dollar bills as a kid. My parents noticed this and talked me out of a precocious interest in finance, which is why I write newsletters instead.
Anyway, Calvin has no idea what to do with his self-declared freedom. He'd fit in well with the ingenuous characters in Hamilton, always acting innocent even as they fight a bloody war of independence. The more I reread and analyze this comic strip, the more I want to do a whole screed about Calvin's deep American-ness. Loving credit cards is definitely one piece of the puzzle.
Other fun things
—David Roth strikes again, this time on Starship Troopers and American defeat
—Osita Nwavenu on "reactionary liberalism" and the category errors at the root of elite discourse about Cancel Culture
—Two writers I very much admire in conversation: Colin Barrett interviews Eimear McBride
A poem
Kate Northrop on strays